The Research and Development Center (R&DC) was formally created on May 3, 1966, with the appointment of Dr. Alfonso G. Garcia, as the first Director of the R&DC of the Baguio Tech (now University of Baguio).
The creation of the R&DC was spearheaded to serve as a venue for the harmonious growth of the different departments of the institution, their faculty and students, in their pursuit of academic excellence and professional growth and development.
In 1966, the R&DC took charge of the publication of the Baguio Tech Journal (formerly Compendium), a biannual journal (January-June and July-December) devoted to research on the culture of the different ethnic groups of the Northern Luzon-Cordillera Regions and on the problems or researches on education in Northern Luzon. Soon after, its maiden issue, the Baguio Tech Journal, was approved on September 2, 1966, by the Bureau of Private Schools as a general reference material for all colleges and universities in the Philippines.
When Baguio Tech became University of Baguio in August 1969, the Baguio Tech Journal was re-named the University of Baguio Research Journal. It was entered as third-class mail matter at the Baguio City Post Office on December 18, 1979, with ISSN 0115-2521. The R&DC then embarked in a journal exchange program with other higher education institutions throughout the country.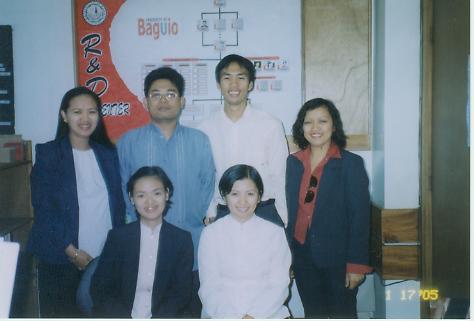 In 2004, the R&DC, through the initiative of Dr. Lloyd V. Orduna, created the College Research Anchorpersons group to monitor the status of faculty researches in each college and ensure the production of faculty researches. This group is currently called the Research Anchorpersons. In the same year, the Institutional Research Review Board (IRRB) later renamed Institutional Research Review Committee (IRRC) was created. It was composed of four (4) bodies namely: Statistical Consultation Board, Instrumentation Consultants, Ethics Monitoring Board and Editorial Board. In 2013, these bodies were renamed Editorial Consultation Committee, Instrumentation Committee, Ethics Monitoring Committee and Statistics Consultation Committee. They served to review faculty researches and provide consultation services to employees of the University of Baguio relative to research concerns. In 2015, the IRRC was restructured to streamline the research process. The functions of the Editorial Consultation Committee, Instrumentation Committee and Statistics Consultation Committee were fused, giving rise to the Institutional Research Committee (IRC). The Ethics Monitoring Committee became the Institutional Ethics Review Committee (IERC). These two groups comprise the University Research Board.
In 2006, the UB R&DC was awarded third place (CAR) in the search for 2006 Best CHED HEI Research Program.
The following served as the Heads of the R&DC
The following were the staff of the R&DC
The following served as the Heads of the R&DC
February 2023 - Present: Dr. Donnavila Marie B. Panday
June 2020 - February 2023: Dr. Isagani A. Paddit
June 2018 – May 2020: Dr. Marilou M. Saong
September 2014 – June 2018: Dr. Rhoda Basco-Galangco (Director)
May 2013 – June 2014: Dr. Lloyd V. Orduña (Vice President for Administration & Research)
June 2010 – April 2013: Dr. Mary Agnes Haydee E. Dabucol (Director)
Summer 2010: Ms. Jenifer L. Kuadli (Officer-in-Charge)
2008-2010: Ms. Christine Marie C. Poyaoan (Director)
2007-2008: Ms. Geraldine Llanes-Leaño (Officer-in-Charge)
2001-2007: Dr. Lloyd V. Orduña (Director)
Dr. Annie Mannong (Director)
Dr. Leonardo Diaz (Director)
Dr. Josefina S. Esguerra (Director)
Atty. Wilfredo Wi (Assoc. Vice Pres.)
Mr. Perfecto Ancheta (Director)
Dr. Alfonso Garcia (Director)
The following were the staff of the R&DC
2023 - Present - Michelle Ann P. Chomayag, ECOS Staff
2022 - Present - Shayana G. Elipane
2020 – Present -  Ivy A. Lalio
2014 – Present - Nona Cristina R. Gabriel
2006 – Present - Oliver Richard C. Celi
2019 - Jesusa L. Paquibot
2016 – 2020 - Lesner A. Ngagan
2016 – 2018 - Edenveza  E. Vidal
2013 – 2014 - Sheena T. Merino
2010 – 2013 - Noel L. Llamar
2009 – 2015 - Joseph Rene P. Pascua
2009 – 2016 - Marilou B. Sannadan
2008 – 2013 - Jenifer L. Kuadli
2007 – 2008  - Joy Michelle I. Sicat
2006 – 2007  - Geromin M. Urlanda
2004 – 2010  - Ms. Cristine Marie C. Poyaoan
2004 – 2008  - Geraldine Llanes-Leaño
2004 – 2006  - Honey Karl E. de Guzman
2004 – 2005  - Danilo E. Azarcon, Jr. & Cecilia C. Dangatan
1976 – 1980  - Josefina S. Esguerra
1974 – 1975  - Evangeline Punzalan
1969 – 1973  - Jeremias Cacdac
1966 – 1969  - Bienvenido Balweg