In an echo seminar, Dr. Isagani Paddit and Dr. Donnavila Panday from the University Research Board-Research Ethics Committee (URB-REC) shared key principles of ethical research to the UB faculty last August 28, 2019 at the Centennial Hall. Dr. Marilou Saong, Director of the R&DC, complemented the echo with an orientation prepared for research teachers.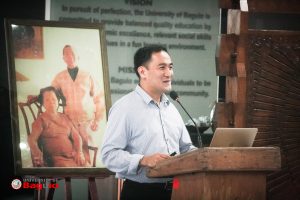 Presenting "Basic Research Ethics Training," Dr. Paddit focused on the components of ethical research while Dr. Panday talked about the principle of justice applied to social and behavioral research. Their material was based on a seminar conducted by the Department of Science and Technology in partnership with the Philippine Health Research Ethics Board (PHREB), which they attended.
Dr. Paddit tackled social value, scientific and ethical soundness, researcher competence and community involvement. He stressed that research involving humans are centered on beneficence (welfare of the participants) and non-maleficence ("do no harm" princi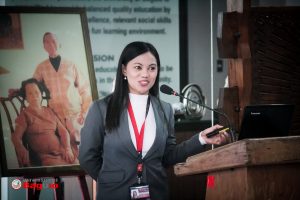 ple). Meanwhile, Dr. Panday focused on common ethical issues and mentioned research guidelines to lessen risk of harm, increase benefit, and ensure respect for person and justice. She also talked about the need to eliminate conflict of interest and balance third party interest with the interests of all the stakeholders, among other important points such as the characteristics of an ethical researcher. The two members of the URB-REC tackled UB's institutional means of ensuring ethical research practice.
The ethics seminar provided the bases of the policies executed by the R&DC. Dr. Saong complemented REC's echo with an orientation on ethics review and tool validation process. She emphasized the importance of being privy to these policies to ensure the smooth flow of the research process. She also talked about the IMRAD format, which is applied to all research submissions to the R&DC.
UB aims to meet the PHREB's standards in order to deliver research works that benefit society and communities that the academe works with. The Basic Research Ethics Seminar is among a list of activities that the RDC organizes to boost the quality of research produced by the UB community.
President Javier Bautista encouraged the faculty to engage in innovative and excellent research so they can respond to the inquisitive minds of young people. | By Jes Paquibot – R&DC Innovation Staff