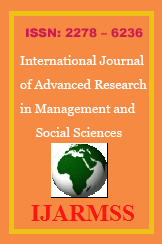 Marie Joy M. Capdos1 ,
Jezreel B. Vicente, Ph.D.1 , Sionny B. Bilag, Christian B. Cadena, Charies S. Chalmas, Joshlee S. Dawiguey, Joglenn I. Gimarangan, Bennex Anne M. Movilla, Randy T. Obfan, Annabelle A. Toyoken
mjcapdos@e.ubaguio.edu

1Faculty, School of Criminal Justice and Public Safety
University of Baguio, Baguio City Philippines 2600
International Journal of Advanced Research in Management and Social Sciences, Vol. 9, No. 1 (2020) | https://www.indianjournals.com/ijor.aspx?target=ijor:ijarmss&volume=9&issue=1&article=012
Abstract
Cybercrime is one of the common crimes today's world of computer, and cyber-bullying is one of the most common crimes committed using different platforms, one of which is Facebook application. This study on cyber-bullying is made use of qualitative through a case study that aimed to determine the modes, effects of cyber-bullying as to personal, academic, and social, and coping mechanisms of cyber-bullying victim-survivors. There were six (6) participants who were currently enrolled in the criminology program of University of Baguio during the first semester of SY 209-20. This study was conducted from August to November 2019. The responses were torn using simple thematic analyses. It revealed that the modes of cyber-bullying among criminology students are posting photographs that downgrade or humiliate the victim in many aspects, writing offensive comments. The cyber-bully victims lower their self-esteem and become shy are personal effects. Their confidence is lowered that leads them for absenteeism are some of the impacts in their academics. Socially, the family members are also affected and feel ashamed in the community. On the coping mechanism of cyber-bullying victims, the victims overcome their experience because of church-related activities. These made the cyber-bully victims strong and motivated to move on despite their experience. Others diverted their activities in sports and performing well in their jobs.
Keywords: Cyber-bullying, Bullying, Internet, Social media, Cybercrime.