The 11th University Research Colloquium was held last February 20, 2021, via Google Meet. It was attended mostly by faculty members from different schools. Dr. Janice Kaylyn K. Lonogan gave the opening remarks. She commended the presenters and encouraged the participants also to conduct their research.
The first presenter is collaborative research from the School of Natural Sciences; the researchers are Ms. Ruth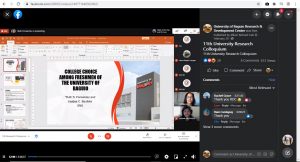 Fernandez and Ms. Haidee Bautista; their research is entitled The college choice among freshmen of the University of Baguio. They found out that there is a gender difference, UB is more popular among the STEM strand of senior high, and most of the freshmen were from private high schools. Also, their findings showed that freshmen enroll in UB because of its academic history, location, diverse program offerings, and open-door policy. Ms. Leny Estacio gave her reaction to the study.
The second collaborative research is from the School of Teacher Education and Liberal Arts; Mr. Brian Flores and Ms. Rhoda Marie Carbonel presented their study on the Community Assessment and development profile of Brgy. Lucnab, Baguio City. They presented the profile of Brgy. Lucnab. Their study concluded that community diagnosis through "needs assessment" activities is an important activity before intervention. Well-trained and well-educated needs providers, as represented by the collective involvement of the different schools, departments, and offices, are also necessary to implement priority interventions for the adopted community's development. They also define an ideal outreach program requires the conscious and organized collaboration of the participants. However, these programs cannot be provided without funds and other available resources (human, physical capital, knowledge, expertise, relevant training, etc.) coming from within and outside the adopted community. Mr. Junix Delos Santos gave his reaction to the study of the group.
The third presenter is a dissertation scholarship grant, presented by Dr. Froilan Aspa; his dissertation is entitled "Roles of registrars in higher education institution. " His study recommended that since registrar has an important role as internal and external intermediaries of information, they should be equipped with classification and general record-keeping skills, information management skills, web-enabled technology implementation, document imaging, and workflow technologies. Ms. Christian Michelle Cacho of SBAA gave her reaction to the presentation of Dr. Aspa.
The fourth presenter is collaborative research from the School of Natural Sciences, with Dr. Benilda Narcelles, a retiree, and Ms. Teresa Villanueva presented their study on Biosafety and biorisk management of HEIs and clinical laboratories in the City of Baguio. They concluded that participating HEIs and clinical laboratories can follow the CHED and DOH regulations and policies. Inspections by governing bodies and authorities served as a catalyst for institutions to be constantly vigilant. Lastly, health care facilities and academic institutions still lack information dissemination on Bioterrorism and Chemical terrorism. Dr. Esmeralda M. Gatchallan, the head of the medical clinic, gave her reaction to the presentation.
The fifth presenter is from the School of Engineering and Architecture, Engr. Jeferd Saong, Engr. Ariel Moyaen, and Engr. Edgardo Javier presented their study on UB-SEA Graduates employability: A tracer study (2012-2016). They found out that most UB-SEA graduates were practicing their profession, employed in an allied facility, and some were proprietors. Ms. Cherry Ann Carpiso gave her reaction to the presentation.
The last presenter is collaborative research from the School of Nursing. Ms. Maureen Sabalburo presented their study together with Ms. Juana Balisong and Mr. Ejercito Balay-odao on "Clinical performance self-efficacy of student nurses." They concluded that student nurses have high self-efficacy in their clinical performance. Develop a program to enhance methodology in UB SON, especially in research. Faculty members should motivate their students to apply research findings in the clinical area and further training for faculty members teaching research to update themselves. Mr. Michael Benter, a faculty member of High School, gave his reaction.
Dr. Isagani A. Paddit, the Director of R & DC, awarded the Certificate of Appreciation to the presenters and reactors. He also commended Ms. Daphne Dee Dogcio for being the moderator of the colloquium.